Hi, I'm Sofie Najmanova, an 18 years old show jumping rider representing the Czech Republic. During my riding career I was selected as "Rider of the year" (twice), "Rising star of Czech show jumping", I'm the winner of Czech year-round cup for 6 times and I got 8 medals from the Czech Championship. When it comes to equipment for horses, I always look for the best and that is exactly what O'Cool cold water boots for horses is!
I confess right at the beginning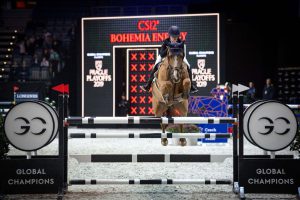 I am an ambassador of O'Cool cold water therapy boots 🙂 Why? Because I think that recovery of horse after a big performance is very important and these cold water boots allows all I need: easy cooling, quick application, NO necessity of hunting a freezer, electricity or shower box.
For the first time I had a chance to use them at LGCT Prague PlayOffs and then at CSI4* in Salzburg. I was very pleased how they fit well to my horse's legs, are effective and comfortable and do their job on 100%. My horses enjoy their time after riding in the most comfortable way, thanks to high-quality firm material and shape, they hold on legs perfectly, so they can move and walk as they want.
How it all began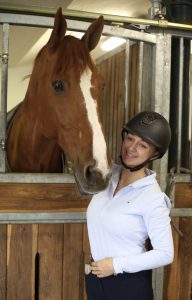 I sat on a horse for the first time when I was about 4 years old. The first time I can really remember was when I was seven, the mother of my two friends brought me to the barn at a cottage and I totally fell in love with it! Since then, I've spent all my time there, did my riding license and competed at my first show. A few years later I moved to the barn of my current trainer Kateřina Vašáková.
Since then, it went pretty fast. I got more ponies, was successful, moved to big horses, got my lifetime horse Stardano and other horses and got another trainer Mirek Půlpán.
In 2014 and 2015 I was part of the children team for the European Championship in Arezzo (ITA) and in Wiener Neustadt (AUS). In 2017, 2018 and 2019 I joined the Czech team for European Championship as a junior in Samorin (SVK), Fontainebleau (FRA) and Zuidwolde (NED).
Florida Internship – a new environment, a new perspective of riding
Since the beginning of December 2019, I spent two months in Wellington, Florida, on a riding internship. I got this great opportunity at a special show in July 2019 called German Friendships, where the barn owner and trainer saw me riding and offered to spend winter with them.
Wellington is referred to as equine New York and my current stay in Florida brought me a different perspective on riding. I have seen a completely different mentality and two types of people here. Those who want and do everything for it and those who want, but they think it is enough to train once every two weeks and then look for great results. I learned that I had to be more patient towards both people and horses. A great benefit for me was the ability to ride a lot of different horses. I had the opportunity to start at WEF, one of the most prestigious international shows, which lasts 3 months.
Sunny Florida was the great place to test O´Cool therapy boots directly on the trainings. As I´m not only ambassador but also a user of O'Cool cold water therapy boots, I brought a pair of them also to Florida. All the riders in the International Equestrian Centre had their chance to try them also and see their benefits. Even though this system was quite new for my colleagues, they really appreciated the ease of use and a cooling effect. And as they are using classic cooling ice boots, they admitted, that it is more practical to transport a bucket, than a freezer on the road or on the show jumping. I definitely agree 🙂
When it comes to equipment for horses, I always look for the best and that is exactly what O'Cool cold water boots for horses is!
It wasn't just about riding and racing
Time spent with horses is great, but I would like to point out a very important thing – a charity lunch with a silent auction for developing the riding of sick children from Haiti and supporting the Chateaublond Equestrian Center in Haiti to prepare riders for the Special Olympics hosted by the owner of the stable, Roms Tscudi Roy. It's called the Special Needs Riding Program, which is hidden under the auspices of the Our Little Brothers and Sisters Foundation.
The event has a tradition since 2004
The money collected was donated by Darlene Milord, who won the Special Olympics in Abu Dhabi and went to her stable in Haiti for further development. I've been working with her and the team for over three weeks. We were looking for products for a silent auction and helped with the whole preparation and organization. The main guest was also Georgina Bloomberg. She is renowned for charity events and generally famous for helping people and animals. It was a great experience watching people do something good for others. I'm so glad I could be part of something so great!